If life was a computer game, on Friday I unlocked an achievement trophy: I finished knitting a blanket. And I'm not talking a little blanket, something to cover the knees. No, I'm talking about a 2m x 2m patchwork masterpiece of a blanket. Hopefully (being as it took me three months to knit the damn thing) it will last me the rest of my life, and potentially even my children's lives.
I was a reluctant knitter to start with. It never interested me in Home Ec. and for the most part, I just never understood it. It just looked too complicated, took too long and reading a book was a lot more fun! A friend of a similar age told me that she was taught to knit as a child because she was too much for a fidget and her parent's wanted to give her something to do. Occasionally I wish I had the dedication back then, but nevermind – I've started now.
Marj bought me a "Knit Your Own Bike Seat Cover" for Christmas. The wool didn't matach my bike but, I felt obligated to learn, I suppose. The seat cover is now practically impossible to remove from my bike. Not because I totes love it (though it is nice) but because it is tied on so well that it simply cannot be removed. It's a nice reminder of what got my started anyway.
In many ways, it was quite a complicated way to start knitting. There's knitting, perling, ribbing, eyelets, increasing and decreasing all in one little seat cover. This is a good thing though as it meant that when I moved on, I knew most of the techniques required for pretty much anything.
I then discovered a new magazine. It was one of those ones where the first one is 99p and then the price increases with the second one. It came with two balls of wool and a pair of 3.5 needles. I'm told that the 99p was worth it for the needles alone. I figured I'd do this because it took all my choice away. I was working on a set pattern week by week, with set colours and wool. Seemed easy and apparently I was going to end up with a blanket at the end.
The collection thing was a bad plan, and in the end, you were getting so little for your money that it really wasn't worth it. I ended up with a cushion though. Parts of it were pretty dire, I have to be honest. I put all the good squares on one side so that when it's on display it still looks good. I also only took a picture of the good side!
My enthusiasm was piqued however. It now felt weird sitting in front of the tv and not knitting. Yes, I can do both! So I decided to set out and knit a blanket anyway (since that had been the original plan and most of the time I like to stick to the plan). My colleague at work had knitted a jumper, and informed me that she had used some very large balls of Aran wool, aquired fairly cheaply from a local retailer. So Aran wool it was. I wish I had a photo of how big these balls of wool were. It was fairly comedic cycling home with them.
The first ball (pink, obviously) knitted 20 squares, so I figured the rest would. Imagine it – knitting 100 squares! As it turned out some of the balls only knitted 19, so I had to cut this down to 92 squares. The specs: 92 squares, 10 by 9, 5 mm needles, casting on 32 sts and running about 54 rows were square, half knitted in moss stitch, half in garter. I was naughty and lazy by the end and didn't co-ordinate my sewing wool with the squares that I was sewing together, but no matter.
3 months later…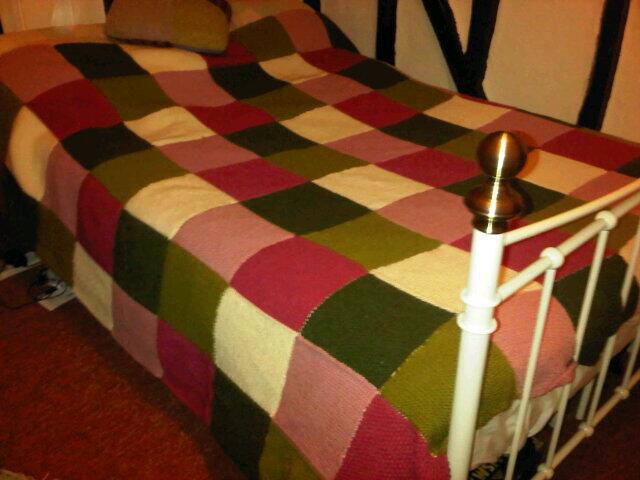 It is huge and incredible and beautiful. I'm very glad that I decided to dedicate 3 months of my life to this creation.
I also spent those 3 months working on a similar massive project for work, and did an afternoons crafting to rejuvinate myself when it all got too much, but you'll hear about those later.